Starbucks Music | Spotify
Role

Co-lead designer on the Starbucks Music. (Trevor Denton partner co-lead).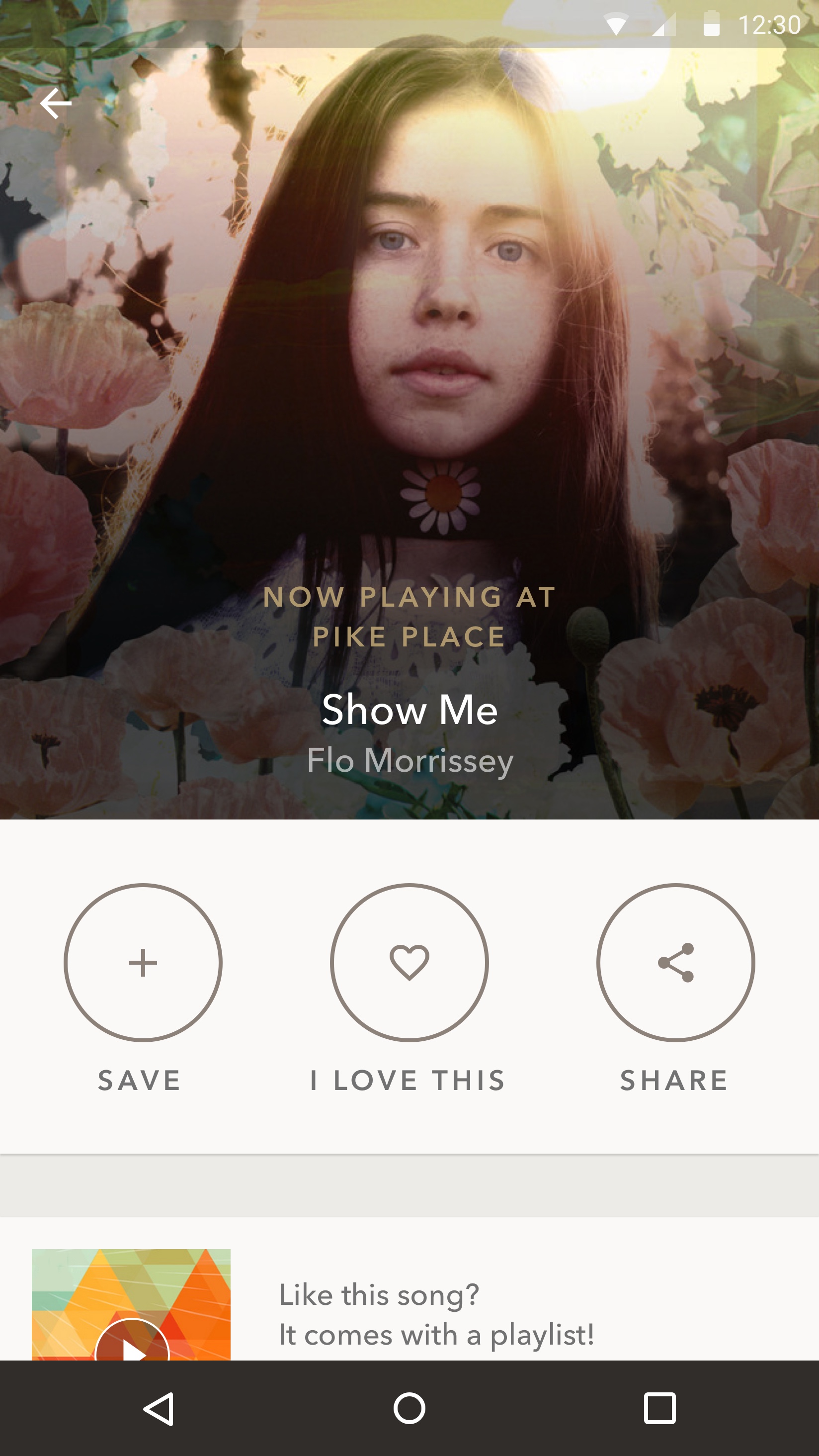 Collaboration
I worked closely with a team of designers from Starbucks, Spotify Design and UX research, product engineering teams.

Goal
Reinvent the way customers discover music at Starbucks

Background
Starbucks has a deep history of music discovery as a core part of their brand and store experience. As music streaming platforms began fast replacing physical music, it became clear the company needed to evolve how music was connected to the Starbucks experience.

Defining an Ecosystem
With Spotify supplying the tracklists for new store music players, we collaborated across our teams to develop 3 features to define the experience: a Starbucks barista app for store employees to control the music, a store music section within the Starbucks app, and an out-of-store Starbucks tracklist feature within the Spotfy app.




Research
To accomplish this, we needed to fully understand the user problem from a customer and business perspective, along with a deep understanding of the technology and contraints of the music ecosystem needed to address these needs.

We interviewed Starbucks customers and partners to understand their routines on how music playing in the store factored into their experience. Key findings:


Customers found music in-store difficult to hear, making it hard to know what song was playing.

No presence of music in-store beyond what's playing over the speakers made it difficult for customers to dicsover or engage with it.

Many customers are on their devices while in the store waiting for the order, often with headphones on. This presents a challenge but also an opportunity to create awareness of the new music offerings.

Each store around the world played the same playlist. This presented an opportunif for each store to create a specific music experiences.


Design Sprint
We conducted a design sprint with our partner teams at Spotify and Soundtrack Your Brand. Using themes from research, we create user flows and into wireframes for Android and iOS. We focused on a defining the core experience of features that would let customers see what's currently playing in store, save songs, discover store playlists, and see previously played songs.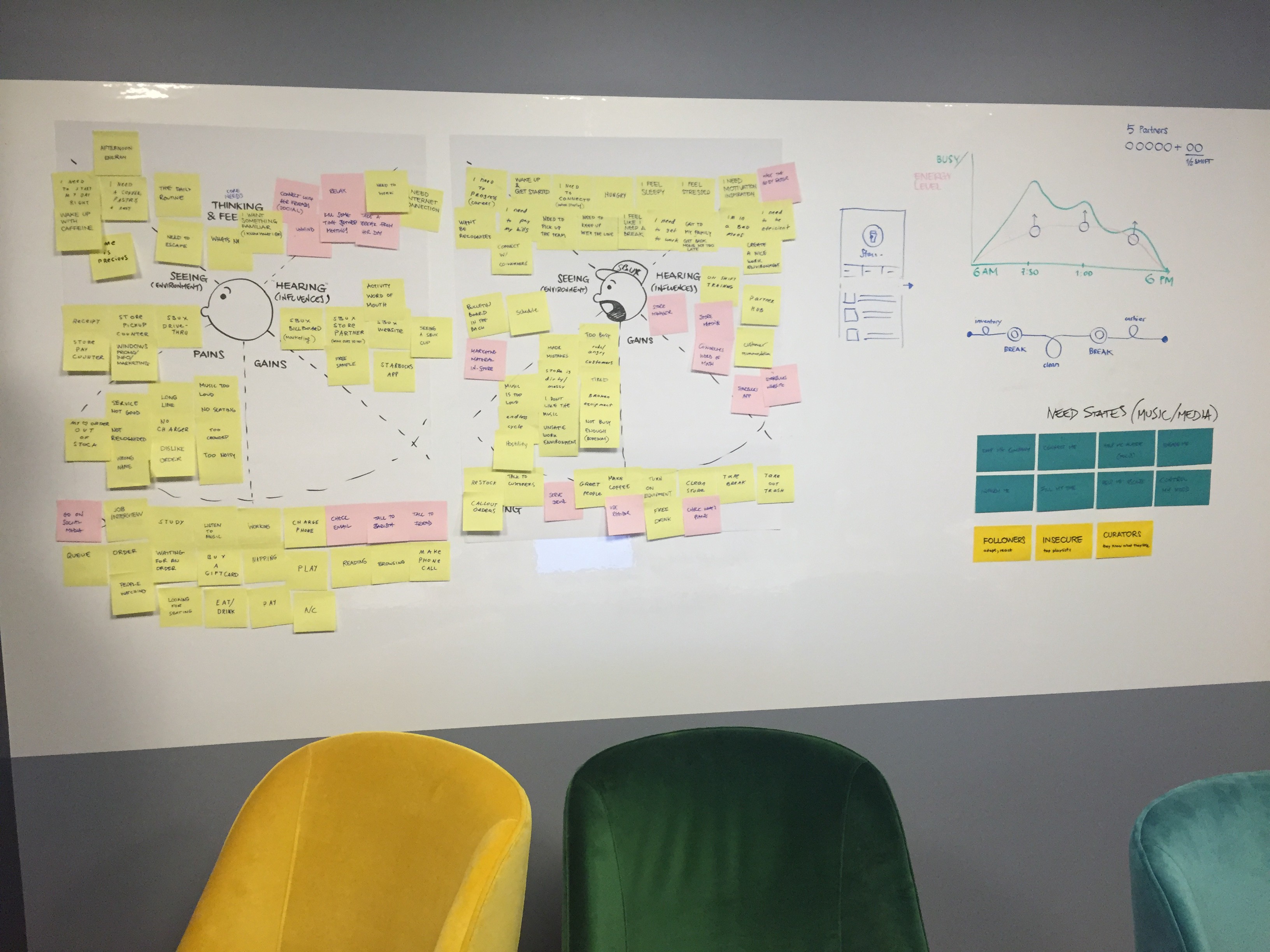 Solution Approach
After this collaboration session, Starbucks product design team synthesize the outcomes into a clear direction for the design.


Implement an obvious entry point to the new music experience without disrupting the core product experience.

Clearly communicate what's playing in a customer's current store.

Create a consistent experience on both Android and iOS, while solving for platform-specific problems in a way that felt natural to each.
Entrypoint

When a customer is in store, a scrolling marquee of current track playing at nearest store with an ambient sound wave animation provides easy discovery without disruptive the core experience




See What's Playing, Save to Spotify The new Music shade is where song details are surfaced with the ability to Save to Spotify, Love, and Share individual songs. Saving a song from the Music shade creates a new "Saved at Starbucks" playlist (first time only) on Spotify for easy listening later.




Iterations
The team continued to iterate beyond this MVP to address additional customer paint points to enhance the experience. Some key features added...


Switching between stores in cases where geo-location would fetch the wrong store in the app.
New Recently Played, Featured & Top Playlists section of the Music shade allowed for quick recall to tracks overheard in store.